Trek to Yomi: Style can trump substance.
---
Developer: Leonard Menchiari/Flying Wild Hog
Publisher: Devolver Digital
Release date: 5th May 2022
Genre: Action adventure, Hack and Slash
Platforms: PlayStation 4/5, Xbox One/Series X|S, PC (Steam)
Reviewed on: Xbox Series S
Game Supplied by: Publisher
---
Trek to Yomi Review
If you are unfamiliar with the name Akira Kurosawa, he was a Japanese filmmaker who created masterful black and white Samurai films during the 1950s and 60s (Seven Samurai, most notably). These films are renowned for their moody aesthetic, dramatic camera angles, stunning settings and interesting stories. Tapping into this niche theme has been attempted before in video games, but never quite with the same panache, style and success as the small development team of Leonard Menchiari/Flying Wild Hog have achieved here with Trek to Yomi. Trek to Yomi is a homage to the genre that Kurosawa himself would have been proud of, but as a game, it's not quite as perfect as the art style it has taken its inspiration from.
I initially thought the titular Yomi was a place in Japan that the lead protagonist was travelling to in search of revenge. I don't want to give away the plot, but the clue is in the title if you research it.
The crux of the story is based around revenge, and your mission feels just. Although it treads familiar tropes in the context of what to expect and the characters it brings along, it still works when presented correctly as it has been done here. As the game is quite short at around 5 to 8 hours per playthrough, detailing any aspect of the story would reveal major plot points, yet despite the brevity of the game, I still felt attached to the characters due to an interesting narrative and great voice acting within the authentic game setting. The audio is only available in Japanese, so there is text to read for everyone else. The world is also chocked full of lore, which is also expanded by finding collectables scattered around that have descriptions which accurately reflect the Edo period this game is set in.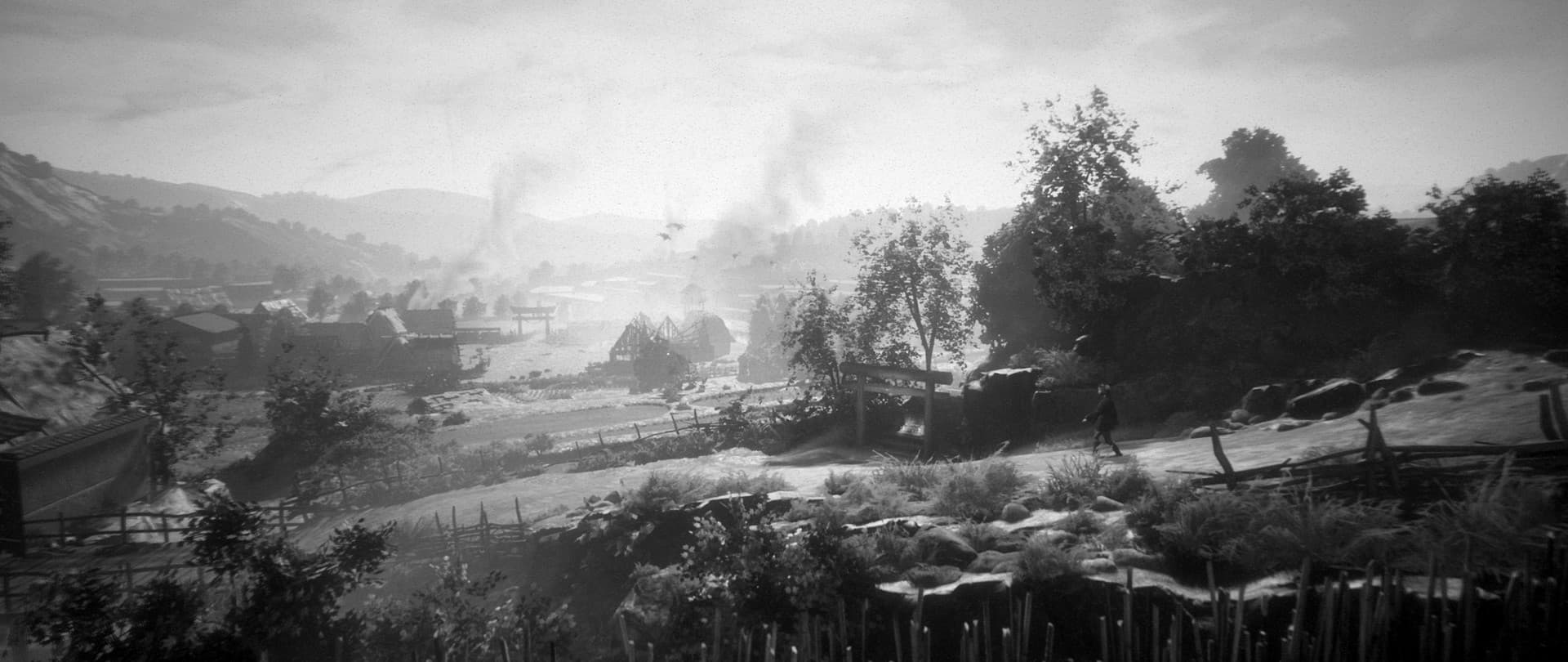 As well as collectables, you will also find power-ups scattered around the world that permanently increase your health and stamina, weapons to throw/use for ranged attacks, and also techniques to unlock new and different types of combos for use with your trusty katana. When they say there are hidden paths, they literally mean it, as many of these items/upgrades are located in areas where it's not obvious at all there is a path to venture down.
Because this is a 2.5D side-scroller, traversing the world mainly incorporates moving from one side of the screen to the next, but there are at times options to go in and out of the setting too. The benefit of trying new paths is that they may lead to routes that allow the player to make environmental kills and bypass some combat, but still reach the end goal of the section. These environmental kills can take the shape of destroying a bridge that enemies are standing on, or opening the floodgates of a dam to unleash a deluge and drown them.
To get through the world you will have to engage in combat, mostly with the katana in melee action, or through limited use of ranged weapons. Seeing as this game is trying to faithfully recreate real-world weapons and their usage, there aren't going to be any over the top combo finishers like you would expect from a Devil May Cry game. Here it is all about the beautiful simplicity of the samurai and his sword. Light and heavy attacks can be mixed, but also forward and backward strikes when surrounded. Unlocking the combos to make these attacks is very much recommended, as without them you have to press a button to face the opposite way, which can and does slow you down a fraction and opens you up to being hit. The key component of combat, however, is the parry mechanic. Pressing L1/LB at just the right moment will parry most enemy attacks, which slows time down for a second or two and allows you to follow up with devastating attacks or combos of your own. These retaliatory attacks can also have the benefit of stunning your enemy. Whilst in a stunned state, enemies can be finished off with a finisher, which has the added benefit of restoring some of your health.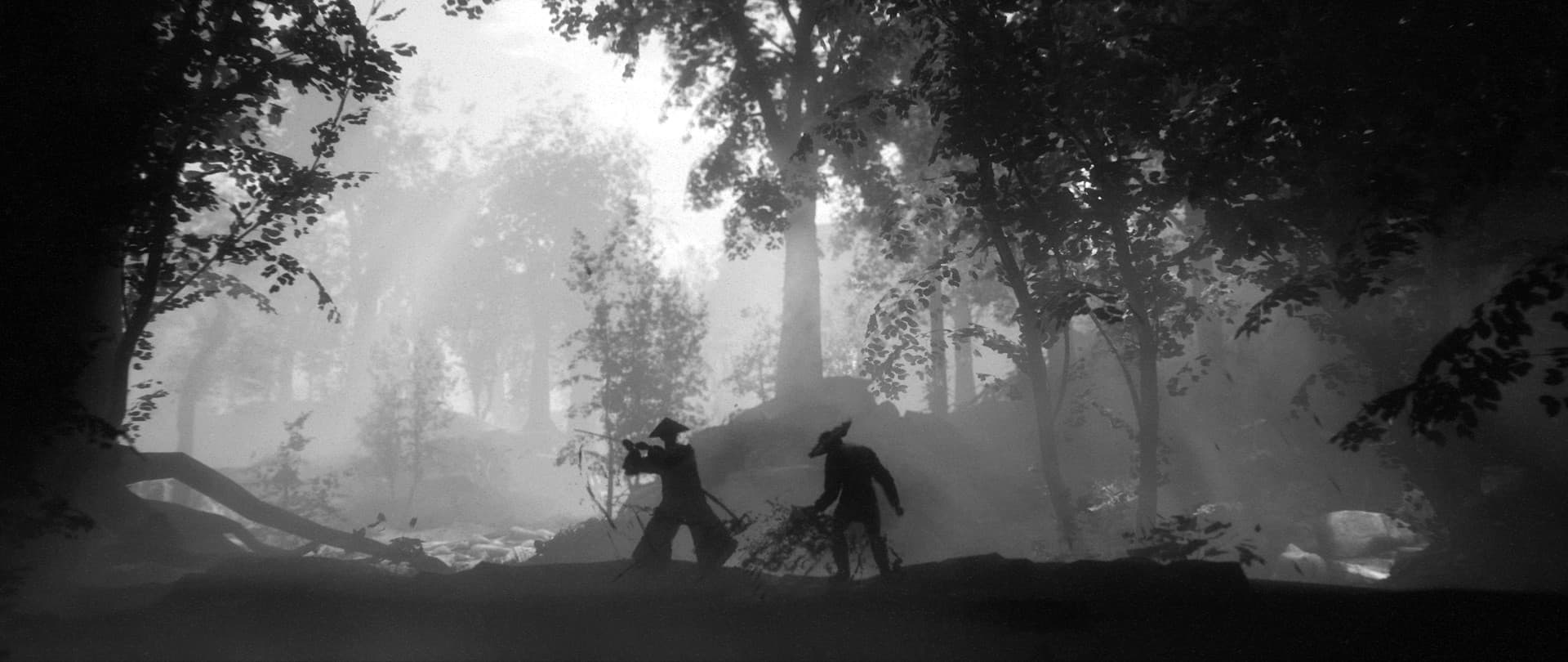 Learning the move sets of the enemies is vital, as even on normal difficulty taking a few hits will be enough to send you back to the last checkpoint. The parry window is fairly generous, but a little inconsistent in so much as my instincts to parry didn't match what was on the screen, though once I learned the timing of it per enemy, it became second nature and a crutch to lean on in battle. The other reason the parry mechanic is a vital aspect to master is that you also have a stamina bar, which means you can't simply spam the attack buttons and think you will get through, as it won't take too long for you to have exhausted yourself, and then leave yourself in a vulnerable state and susceptible to hits. Managing your stamina proved to be as important as managing the enemies and your timings.
Swordplay was as simple and elegant as this, and even though there isn't much depth, you have room to experiment with different enemies and generous amounts of save points to find out what works best for each enemy type. A separate dojo training mode would have sped this process up and would have been a welcome addition to hone your skills before battle, but it won't take you long to find a combo or two you like to use that works best for your playstyle.
A few enemy types were particularly annoying, as enemies that attacked you from range, with spears, bows and arrows or guns, were normally at the back of a group, which you had to fight through to reach. In the meantime, you were still receiving ranged hits from them.
The other aspect that was annoying was that some enemies could continue with their attack sequences even whilst being hit, whereas if you are hit during a combo, the subsequent button presses are cancelled and you have to start again. For a long time, this led me to simply do a quick light attack and retreat, until I found a combo that covered more ground.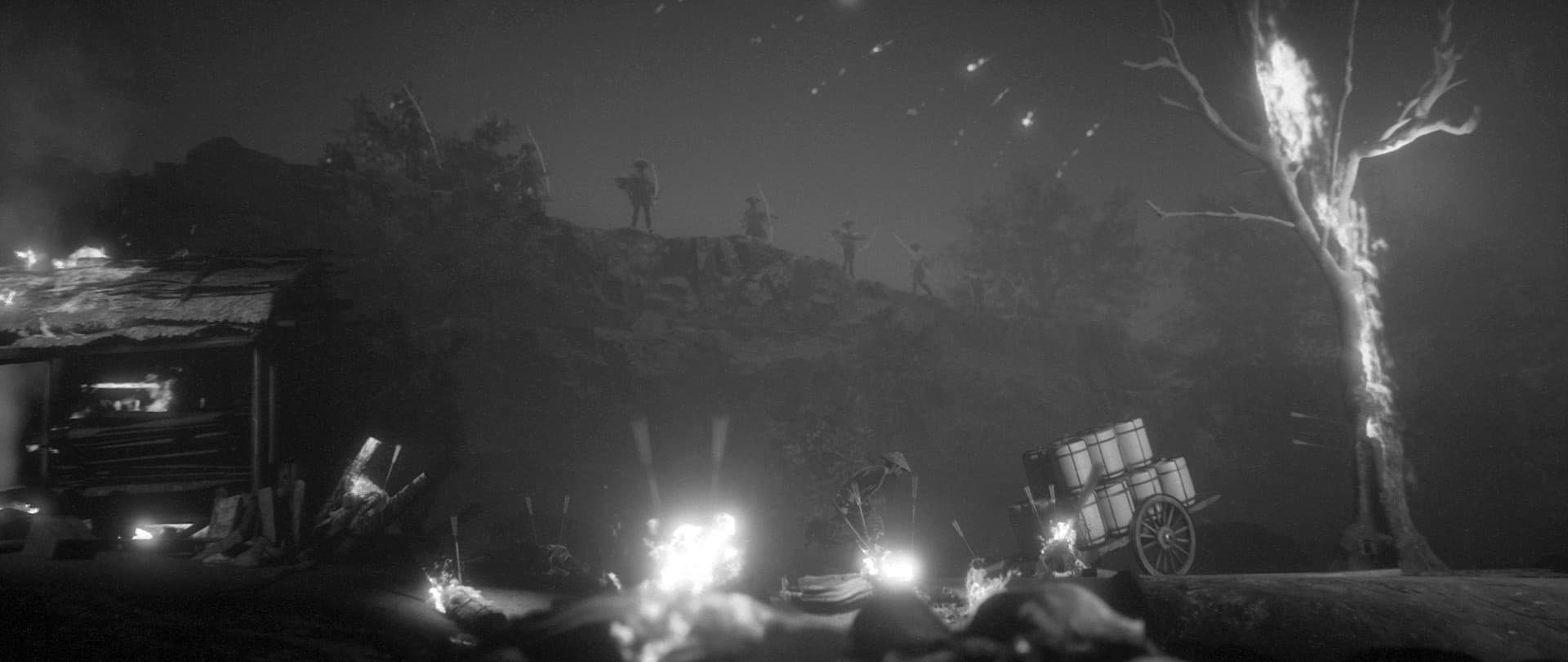 Being surrounded by enemies became a little frustrating, but the one on one battles with mid-level brutes or end of level bosses were highlights. Here the truly cinematic feel of the game was highlighted as these scenes often had dramatic backgrounds as the setting, alongside a terrific fight sequence. The other issue of the combat then raised its head as I was constantly changing the difficulty levels of the game, partly to experiment for this review, and partly because the difficulty of the game fluctuates.
For example, on Normal difficulty, I sometimes beat boss fights at my first attempt with ease, whereas others got so frustrating I reduced the difficulty down to easy. Easy, however, was so simplistic as to be boring, so I would put the difficulty back up again. The hard level was an achievable challenge once you knew the enemy types and their attack sequences, and most importantly when you have found the best combo to use for your character and your personal playstyle. Without them, it became frustrating again. In my playthrough, I used all three settings but could never find one that I felt got the balance of enjoyable but not too hard just right. However, each player will be different in their expectations and abilities.
The only other gameplay differences are some light puzzles later on in the game and a couple of chase sequences too. The puzzles are so light as to even describe them would give the answers away, and felt a little contrived and forced into the game, as if they thought about breaking up the tone of the game somewhat late into development. I did also encounter a couple of technical issues. When starting a puzzle, I had to back out of it to check something, which then meant I then couldn't go back into the puzzle or even pick up items or save at a checkpoint. I tried to reload a checkpoint, but this didn't work. Coming out of the game and turning it off and on again eventually sorted the issue, but this happened a couple of times. I also encountered an occasional occurrence of frame rates dropping, especially early on in the game. After Chapter Two, the frame rate stabilised.
The main star of this show, however, is the visuals, and frankly, the graphics and artwork are so stunning they carry the weight of the game and its flaws all the way through. Each segment of the game feels like love, care and dedication to accuracy have been poured into every minute detail on the screen. The fact you could walk through some of these sections within a couple of seconds is a travesty to the wonderful artistry on display. A couple of hours into the game, I suddenly realized that even though my character can run, I was ambling as slow as possible through each section simply because I was enjoying looking at the scenery. It wasn't just the superb artistry at work, it was also the fluidity of the background movements of flowing grass, the dust in the wind, the flicker of flames, and the incredible lighting. Each section has a fixed camera, much like the films from Kurosawa, and you walk your character across it. Occasionally the camera would zoom in or pan out, but nothing was ever over-used, adding so much to the on-screen drama.
---
In a standoff with an armoured Samurai on a rope bridge, the camera angle is set slightly below looking up, with dark brooding deep blacks set against a backdrop of burning buildings, streaks of lightning, and the wisps of dust in the strong winds – A pause as the two combatants stare each other down from across the narrow walkway…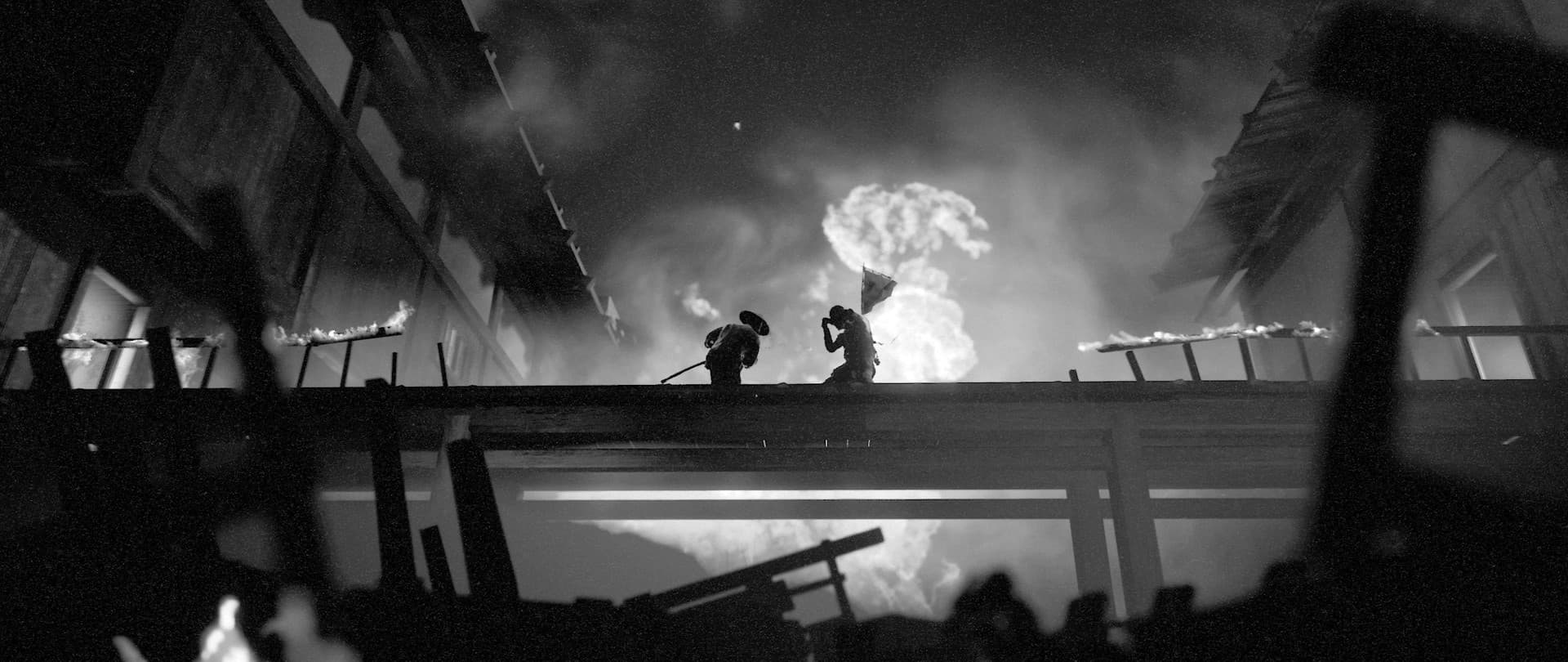 ---
Every scene had a huge amount of interest one way or another to look at. I have never taken so many magnificent screenshots as I have with this game. Each time I thought I'd captured a stupendous visual moment that couldn't be bettered, another one arrived shortly thereafter. I could gush about the visuals for the entirety of this review, however, there is more.
When you combine the stunning visuals with the incredible sound design, it transports you to another time and place in seconds. The sound of the fires, the rain and the wind were enveloping, as was the fantastic and wonderfully authentic musical score. There weren't any grand orchestral overtures, it was generally one or two Japanese instruments, but they were being played perfectly to the scene on the screen. I even noticed details in the sound design, in the way that, for example, when walking across the wooden floor of a house, the floorboards didn't just have a 'canned' squeak. It was almost as though the sound engineers had used the exact same length of board, of the exact same age and degradation, and mimicked how the player would walk along this piece of wood to capture the sound. It is a stunning achievement.
When you finish the game (and the last boss fight is a tough one), there are alternate endings depending on the choices you have made in the game. Nothing is groundbreaking in their difference, but this is really the only draw to play through the game again. With no new game+, or the ability to carry over your power-ups, or even to go back to a previous checkpoint in the game to find all the collectables you missed the first time to complete trophies/achievements, it's a little frustrating that you literally would have to start all over again from scratch to do so. Hopefully, a post-release patch might add or address this issue at a later date for the completionists amongst you.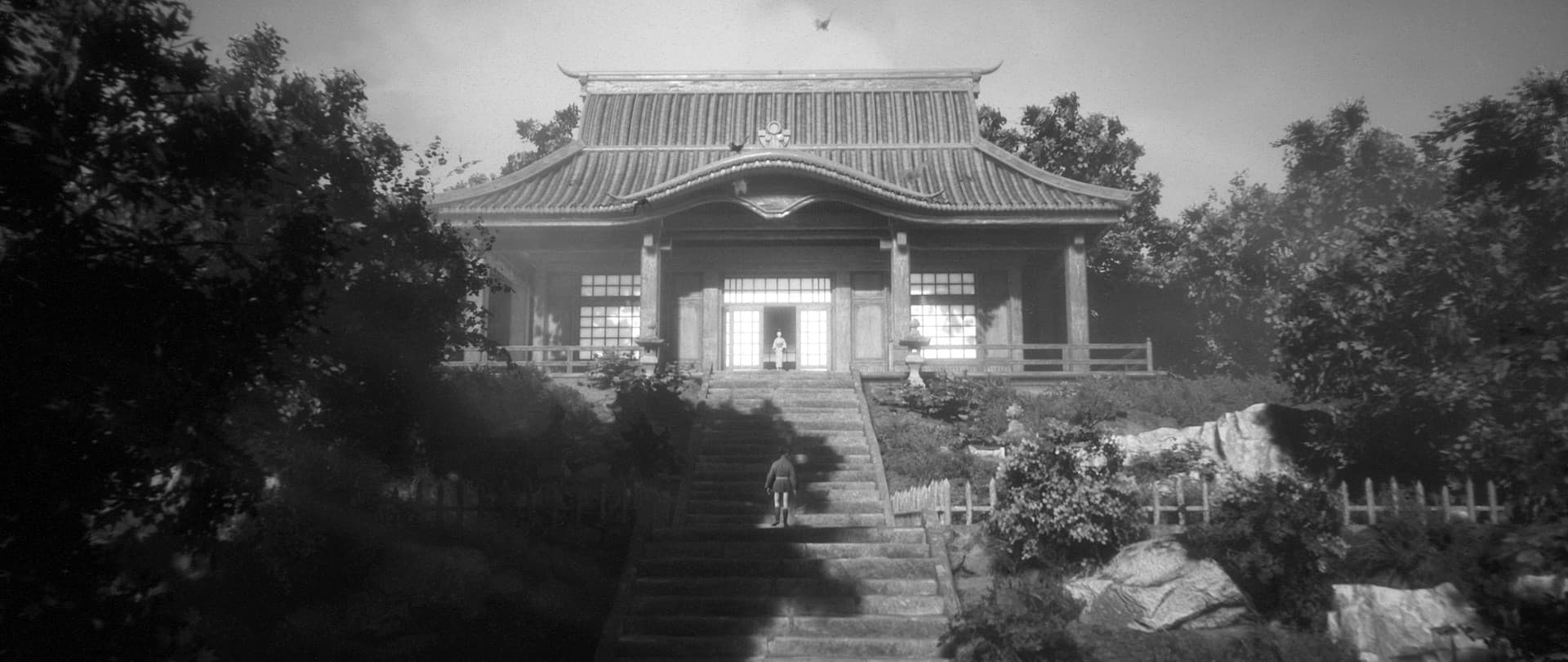 Summary
Much like how Japanese culture dedicates itself to simple elegance, Trek to Yomi is a visual and audio masterpiece that carries the simplistic but rewarding gameplay on its shoulders. As it doesn't try to overreach itself in depth, systems or longevity, it is unequivocally a resounding success. It also has to be mentioned that, even for a 5 to 8-hour game, it is competitively priced at just £15.99 (as well as being added to Game Pass). If you have any interest in the genre, it is a must-play experience, as it is one of the most authentic and atmospheric games ever created.
Facebook Comments